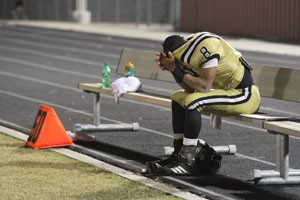 I am going to just put it out there: I fucking hate to lose. I don't just hate it. I FUCKING hate it. And frankly, I am not good at it. Simply put, I'm a loser at losing. I don't handle it well and it almost always ends in tears for me. It can be embarrassing sometimes, but such is my reality. This has always been an issue of mine and one that I can't seem to grow out of. Sometimes my competitive edge gets the best of me to an unhealthy degree.
It happens with the pressure of I put on myself with running
, and it carries over into other aspects of my life.
As many of you know,
I spent this spring coaching a girls flag football team
. I have coached the bowling team the last seven years (and none with winning seasons) and as much fun as it is, it's not a contact, competitive team sport like football. Growing up playing a ton of team sports, I know what its like to be a part of a team. There is so much more to it than playing. It's the game itself and the bond you form with your team. I know how it feels to win big games and lose big games. Obviously the feelings after these are dramatically different but the losses seem to be the ones I remember because of how upset I was after. Those games always seem to haunt me. (I can still vividly remember how my basketball season ended senior year of high school. Home playoff game. We were top seeded and lost to one of our rivals (who we had previously beaten already) with an half court buzzer beater. Needless to say, I was inconsolable. Yes, it still haunts me. I have issues, okay!)